ZF 8HP 8-Speed Gearbox Servicing
This ZF gearbox is widely regarded as the best automatic gearbox ever released. Found in various vehicles such as the Bentley Continental GT, Aston Martin Vanquish and the Lamborghini Urus. BMW released this gearbox with the BMW 7-Series F01 and has since been fitted to all automatic BMW model's, in both X-Drive & rear wheel drive.
Your gearbox is a extremely sophisticated piece of engineering that needs to be looked after with regular oil changes. These transmissions are built up of a few hundred components, some of these components are designed to wear out (like clutches) through making use of them. Your driving style and proper maintenance have the biggest impact on the overall life time of these transmission components. We see lot's of vehicles with very high mileage (over 200,000 miles) with factory built transmissions, that have lasted through simple planned servicing.
BMW claims that the gearbox on these vehicles are 'sealed for life'. If you further quiz them on this statement they deem life at 100,000 miles. Almost any independent or gearbox specialist will recommend gearbox oil & oil filter changes inline with ZF (the gearbox manufacturer for BMW) every 60,000 miles. Trust ZF, they have designed and built this transmission.
When servicing a gearbox we always check for any leaks and clean down prior to removing filter. If any additional gaskets are required we would speak to you about replacement as this would be an ideal time to replace them (output shaft seals, mechatronic seals etc).
We fully drain the gearbox of it's old oil.
We remove and replace the gearbox oil filter. This is in fact a complete plastic sump for the gearbox with an integral filter.
We then refill the gearbox using genuine ZF oil that is manufactured by the gearbox manufacturer "ZF Lifeguard Fluid 8".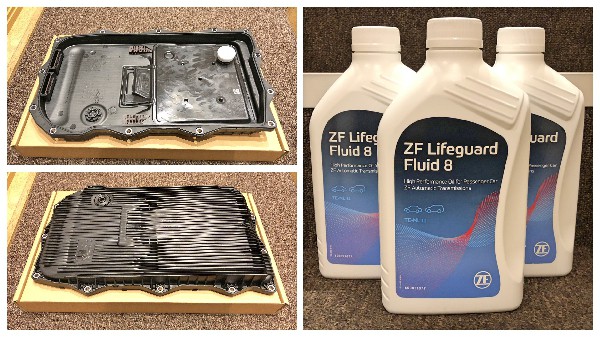 The cost of a complete gearbox oil service is £649.00 inc VAT (this includes parts, oil, labour & VAT) and we would recommend this is completed every 60,000 miles to keep your transmission functioning at it's best and avoid costly rebuilds at a later date.
A gearbox software update can be added for a cost of £79.80 inc VAT. This will update the gearbox firmware to the latest version offered by BMW. If your vehicle is pre 2017 then we would recommend this update as it does rectify some of the gearbox niggles that these boxes have gained a reputation of over the years.