Seat Occupancy Sensor Mat Removal (Software Only Fix).
Seat occupancy sensor mats are used to detect if a passenger is present and occupying a seat in the vehicle.
This system is designed to only deploy the required airbags in the event of an accident. Utilising a passenger seat occupancy sensor cuts the cost of repair as only required airbags are detonated in the event of an accident. Obviously with seat occupancy sensors operating correctly and with no passenger present in the vehicle at time of impact, only the drivers airbags would deploy. Thus cutting repair bills.
Pictured below is a seat occupancy sensor removed from a vehicles seat: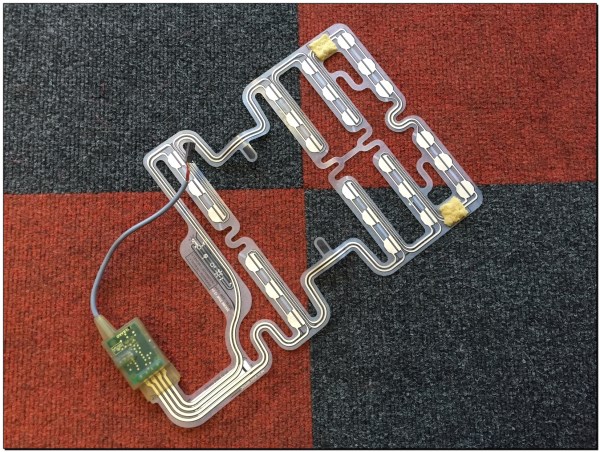 Sadly, over time the seat occupancy sensor mat starts to fail as it carries the full weight of a passenger.
When the sensor mat fails the vehicle's airbag warning light illuminates indicating a fault and shutting the whole system down. Now this is an issue… If an airbag light is illuminated none of airbags will detonate in the event of impact.
An airbag warning light indicates a fault on the airbag system. This is now an MOT failure.
Up to now a replacement seat occupancy sensor mat has been the only method of repair. This is obviously quite a costly repair as the leather and foam requires removing from the seat frame to access the faulty sensor mat.
We have seen various chips and modules being sold online to trick the airbag module into thinking the seat occupancy sensor is working correctly, these are however just over priced and nicely presented resistors. There is also no proof of this repair method working in the event of an accident.
This is where we can help. Rather than replacing the seat occupancy sensor, we can disconnect and recode the vehicles airbag control unit to disable the seat occupancy sensor. We don't fit chips or modules that can fail. We simply reprogramme the module, removing all communication to the seat occupancy sensor. Our process does not trick the airbag control module, it permanently disables the sensor.
In the event of an accident all of the vehicles airbags will be deployed, regardless of how many occupants are present.
This process can be carried out on the following BMW's.
E36 3-Series and Z3.
E46 3-Series.
E90, E91, E92, E93 3-Series.
E60, E61 5-Series.
E63, E64 6-Series.
E65 7-Series.
E85 z4.
E81, E82, E87, E88 1-Series.
E83 X3.
E53 X5.
E70 X5.
E71, E72 X6.
F-Series vehicles are now available, please contact us for further information.
The cost of this software removal service is £91.67 + VAT.