Ordering a replacement key from a dealer is a troublesome, overly complicated process with average 2 day wait time.
At Grosvenor Motor Company we can supply and programme a replacement remote control to your vehicle. This allows your to start the car and use the remote control to lock and unlock.
As an upgrade our replacements are modelled on the late generation metal keys. So, if you currently have the standard black plastic key, our silver replacements are now available as an upgrade for all F-Series vehicles.
We stock both 434 & 868mhz versions, ready to be programmed to your car.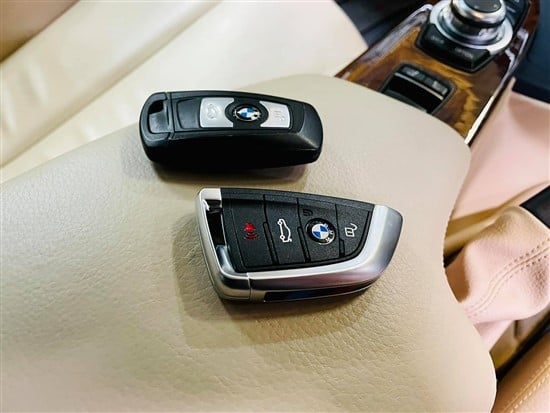 Our remote keys have the same user replaceable button cell batteries that the later factory key uses (CR2032).
(These replacement keys will not operate the exterior wireless functions of comfort access on vehicle equipped with option code S322A, they will however still wirelessly start the vehicle from the interior like a regular vehicle).
The cost of our standard replacement remote control – pictured above (key blade uncut) is £160.00 + VAT programmed to your vehicle.
Please note: We do require the whole vehicle for the day to provide a replacement key remote.