BMW FRM3 Footwell Module Repair
A very common problem with BMW's FRM3 footwell module (usually fitted to E81, E82, E84, E87, E90, E91, E92, E93 vehicles manufactured after 09/2009).
Symptoms of failure are: (all of these symptoms need to be present for this repair to be relevant).
Main beam always on with ignition & cannot be switched off.
No interior lights
No indicators
Bulb check error on dash.
Electric windows, sunroof, mirrors, central locking not working.
FRM module not responding with diagnostic tool.
This failure usually occurs if the vehicle has had battery issues, been jump started, disconnection of the battery, issues after running diagnostic / programming procedures. In 99% of cases the FRM3 footwell module can be brought back to life without need of replacement module.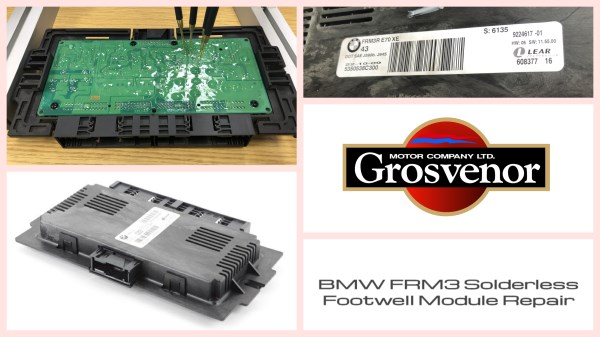 You have 2 options.
You can remove your module and bring it to us (we do not operate a mail order service) – £79.80 inc VAT.
You can bring your vehicle, we can remove it, repair and refit – £148.66 inc VAT.
Please note, if your unit is burnt out, water damaged, this service is not applicable. This service is only for corrupt units due to voltage issues.
There is almost no FRM issue that we cannot rectify in one way or another but anything that varies from the above, we would require the complete vehicle to diagnose and repair (including the services below).
We also offer:
Short circuit reset (output terminals with repeat short circuits will be shut down by the FRM).
Refurbished FRM3 control units to replace a un-repairable control unit.