BMW Z4 Roof Motor Failure
Roof motor failure is a very common issue on the E85 Z4 as the roof motor resides under the roof unit (frame and canvas) in a plastic container.
The roof motor container sadly has quite a design floor, it is susceptible to back filling with water over time due to the main roof drains not being able to take the water away. This container has no water drain to take to allow the container to empty if it does ever take on water. This inevitability fills up with rain water over time and drowns the roof motor.
If the red light on the roof switch starts to flash (but the front electric latches still disengage correctly) when you press the button to open the roof it is a good sign that you have a fault with the main hydraulic motor.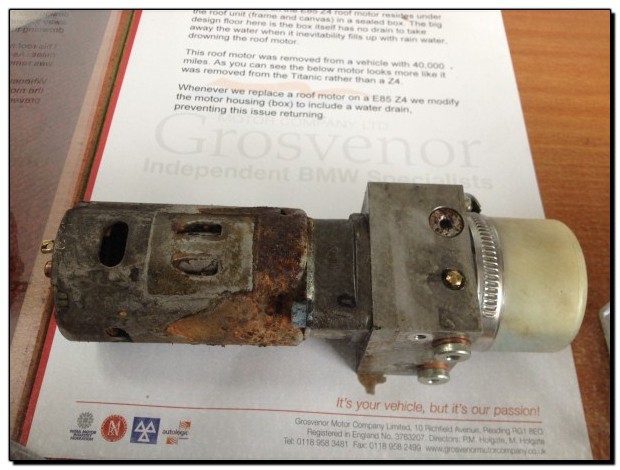 This roof motor was removed from a vehicle with 40,000 miles. As you can see the below motor looks more like it was removed from the Titanic rather than a 2005 Z4.
Whenever we replace a roof motor on a E85 Z4 we modify the motor housing (box) to include a water drain, preventing this issue returning.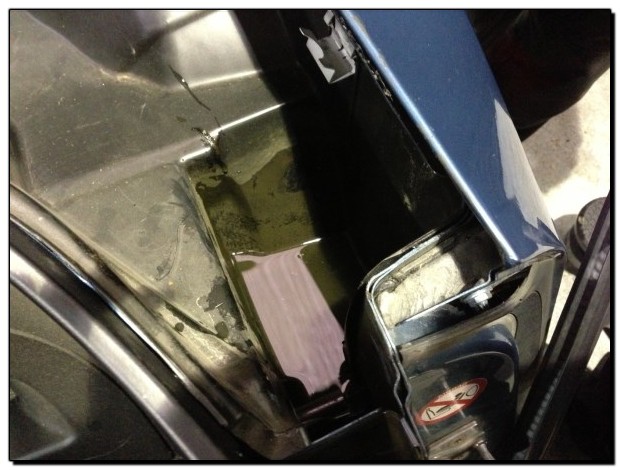 The pictures above and below show a roof motor container half full of water (roof and motor removed), the discolouration of the water is actually a mix of algae and corrosion from the motor.
Modifying the roof container with the addition of a water drain stops this water damage issue returning, thus preventing damage to your new roof motor.
We can now rectify your roof motor fault within a working day at a cost of £650 inc VAT.
Customers from all over the country travel for this service. If you have any further questions or we can help get your vehicle booked in, please give one of our team a call on 0118 958 3481 who will be happy to help.