BMW M3 & M4 Coding Options
This section is based around the BMW F80 M3 & F82 & F83 – M4.
BMW's are literally pumped full of useful features, various functions are deactivated at factory level when the vehicle is produced. These functions can be activated, added, removed, converted or flashed to the vehicle using specialised diagnostic equipment. Hopefully our basic outline below will give you a good understanding of what can be performed and the costs involved.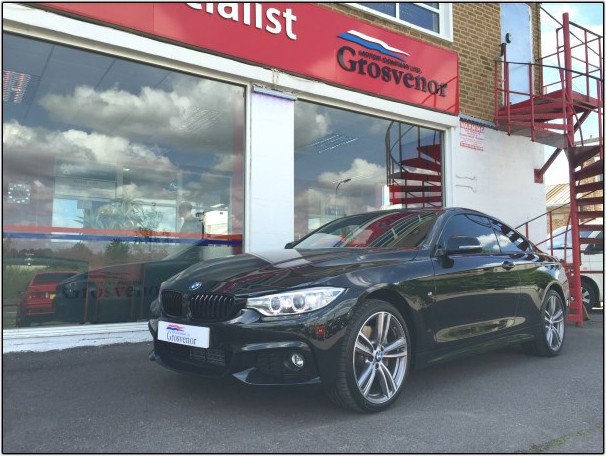 Advanced Coding…
The following features can be coded to your F-Series vehicle and activated for a cost of £83.00 + VAT for the first coding option. Each option picked from the list below will be charged at an additional £10 + VAT individually. This service carries it's own fee, this is not included in any of our other coding services.
Automatic driving light sensitivity (insensitive / normal / sensitive).
Seat belt reminders can be activated / deactivated (for either driver or passenger).
TV in motion – (software only activation to allow the TV to stay on when driving).
Start / Stop button memory – (retains a memory of the last selected setting rather than defaulting to on).
Acoustic alarm chirp activation – (acoustic confirmation chirp when locking / unlocking vehicle).
Electric wing mirrors fold with remote central locking – Unfold / fold wing mirrors via remote key fob – Pressing and holding lock / unlock on key remote with fold / unfold mirrors (this may sound obvious but factory fitted electric folding mirrors are required).
Basic voice recognition – Enables control over a paired mobile phone (only for vehicles with NBT or combox fitted).
USB video playback with additional codec activation – Allows playback of video via USB port on NBT head units.
Soft on welcome lights – Enables welcome lights to fade up when unlocking and fade down when locking.
Door handle puddle light LED's powered on reverse – When selecting reverse gear, door handle puddle lights are activated to illuminate curb.
Continued use of power windows with door open – (allows one-touch windows to be used after door has been opened).
Removes disclaimer for all cameras and PDC sensors on screen.
Add tyre pressure & individual tyre temperature to the TPMS display – (vehicle must have factory tyre pressure sensors fitted).
Activate Siri Eyes-Free Button – Hold down voice recognition button for over 2 seconds – (iPhone must be paired and later NBT system fitted).
Displays an entire SMS message on iDrive rather than just three lines – (later NBT system must be fitted).
iDrive start up logo – Change iDrive boot logo to Alpina, BMW i, Rolls Royce or ///M (NBT vehicles only).
Easy entry – When unlocking the vehicle the drivers seat moves back to allow easy entry for the driver, upon starting the car the seat moves back to the previous position.
Angel eye brightness – We can keep angel eyes at 100% brightness at all times, even when the dipped beam is on.
Performace Flashing…
BMW F80 M3 & F82 M4 GTS DCT Gearbox Software Flash – We can now flash the GTS software onto your standard DCT M3 or M4 giving you not only the latest version but the improved gearbox performance of the GTS – This flash is preformed with a full vehicle software update, the cost of this service is £250 inc VAT.
Retrofit Coding…
The following advanced coding features can be coded to your F-Series vehicle and activated for a cost of £83.00 + VAT (individually), this service carries it's own fee, this is not included in any of our other coding services. Various retrofit options can be coded to the vehicle and add to the vehicles specification, all may/will require additional hardware to be fitted prior to coding.
Heated steering wheel retrofit – Fitted, tested and working (BMW / Autologic will not release coding for this service, but we can) – Will require additional hardware for BMW.
6NS dual Bluetooth phone option – Later vehicles 2014 onwards will have Bluetooth streaming fitted as standard. At any given time, 2 mobile phones or Bluetooth audio players can be paired and active simultaneously with this coding upgrade.
Removal Coding…
The following features can be removed from your vehicle by way of specialised coding at a cost of £83.00 + VAT (individually), this service carries it's own fee, this is not included in any of our other coding services.
Various bulb checks can be deactivated – allowing the use of aftermarket LED bulbs (without showing a warning light on the dashboard).
Airbag equipment removal (disclaimers will need to be signed) – we can remove single components of the airbag system whilst allowing the rest of the system to operate correctly and deploy in the event of an accident. Faulty seat belt tensioners, or faulty seat occupancy sensors can be disconnected and coded out.
TPMS – Removal coding of tyre pressure monitoring system – ideal if aftermarket wheels have been fitted or to remove due to failed sensors.
Road Map Updates…
Digital Road Map Update Europe NEXT 2017-2 – Navigation Map Update for NBT Professional units – We can update the mapping software as well as providing the relevant FSC activation code.
Vehicle Language Change:
English
German
French
Italian
Spanish
Dutch
Japanese
Swiss-German
Russian
Chinese
Polish
Portuguese
Swedish
These options may not be available on every vehicle. Different model years, body variants and specification will dictate the options presently available for your vehicle