BMW E46 Coding / Options and Flashing.
BMW's are literally pumped full of useful features, various functions are deactivated at factory level when the vehicle is produced. These functions can be activated, added, removed, converted or flashed to the vehicle using specialised diagnostic equipment. Hopefully our basic outline below will give you a good understanding of what can be performed and the costs involved.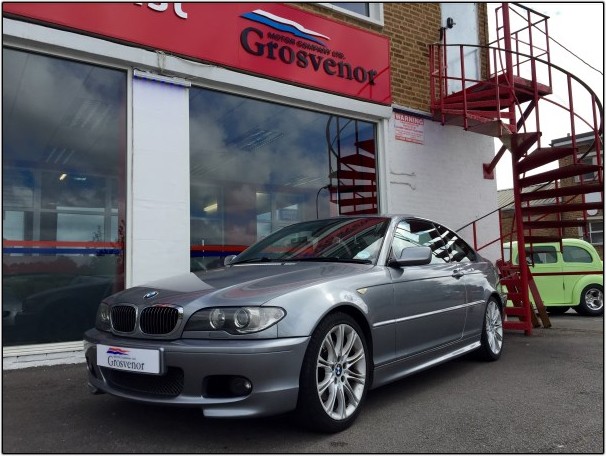 Option/key coding…
The following features can be coded into your vehicle and activated for a cost of £83.00 + VAT, this service carries it's own fee, this is not included in any of our other coding services. There is no limit on how many you can select from the list below but please make our staff aware of which items are coded before any coding work is started.
Visuals and acoustics can be activated so when the vehicle is locked / unlocked the indicators will flash and an audible chirp is heard (single chirp for lock, double chirp for unlock).
High beam headlamps flash with indicators if the vehicle's alarm is activated to attract further attention.
Panic mode – if the trunk release button is held on the key remote for 5 seconds, the vehicle alarm will be activated attracting attention.
Power windows can be made to remain active when the drivers door has been opened (without key in ignition).
All power windows can be made one-touch (if not set from the factory).
Selective locking can be activated (much like a late VW). A single press of the key unlock button will unlock the drivers door, a double press will unlock the entire vehicle.
Comfort window lowering (Coupe and Convertible only) – A double press of the unlock button on the key remote will lower the drivers window upon opening the door, the window will automatically close as soon as the door is shut. This feature is especially helpful when attempting to enter the vehicle in tight spaces.
Automatically re-lock vehicle after 2 minutes if unlock button was pressed but doors have not been opened. A partially useful feature if the vehicle has been unlocked by accident – the re-lock feature will be deactivated if any doors are opened within the 2 minutes.
Step down wipers at stationary – Front windscreen wipers will switch down to a lower speed when vehicle is stationary (at traffic lights etc).
Full closure on locking – Pressing and holding the lock button on the key remote will automatically close all windows. Convertible models can also have the addition of the roof closing automatically via the key remote.
Convenient unlocking – Pressing and holding the unlock button on the key remote will automatically open all windows. Convertible models can also have the addition of the roof opening automatically via the key remote.
Electric folding wing mirrors can be folded in automatically by pressing and holding lock button on key remote.
Automatic locking when vehicle reaches 10mph – This feature automatically locks all doors / trunk when first reaching 16kph, this prevents any unwanted intruders whilst driving.
TV in motion can be digitally activated allowing TV screens on whatever vehicle speed (a disclaimer must be signed for safety reasons).
Seat belt reminders can be activated / deactivated.
Automatic heated rear window activation at 3°c – (this automatically switches on without having to press the heated rear window button).
Home lights activation time can be adjusted for a longer duration.
Home lights can have additional lights added to program – ie. Fog lamps, high beam headlights.
Activation of daytime running lights.
Volume of PDC sensors can be adjusted.
Seat memory can be set to activate from individual keys (different keys can be used to activate different memory seat functions without touching seat memory button every time a different driver enters the vehicle).
Additional retrofits…
Various retrofit options can also be coded to the vehicle, all may/will require additional hardware, the following features can be coded into your vehicle and activated for a cost of £66.50 + VAT (individually), this service carries it's own fee, this is not included in any of our other coding services.
Genuine BMW facelift LED rear lights (coupe and convertible).
On board computer can be coded (base models never received this function).
Cruise control and multi-function steering wheel retrofit.
Xenon light coding retrofit – also required if fitted HID headlights due to the lower power draw 35w (causing warning lights on dash) – manual headlamp level control will be lost as a result of this retrofit.
M-Track Mode – This is a factory option on the M3 CSL – This can only be retrofitted to an E46 M3 (this cannot be retrofitted to any other variant) – Only some vehicles have the required M-Track Mode LED on the dashboard. This is a semi DSC off option that is activated by pressing the standard DSC button once, pressing and holding the button for 5 seconds will switch it off slightly further to the factory 'single press'.
Removal coding…
The following features can be removed from your vehicle by way of specialised coding at a cost of £83.00 + VAT (individually), this service carries it's own fee, this is not included in any of our other coding services.
Various bulb checks can be deactivated – allowing the use of aftermarket LED bulbs (without showing a warning light on the dashboard).
Airbag equipment removal (disclaimers will need to be signed) – we can remove single components of the airbag system whilst allowing the rest of the system to operate correctly and deploy in the event of an accident. Faulty seat belt tensioners, or faulty seat occupancy sensors can be disconnected and coded out.
Deletion of AUC sensor.
Deletion of various alarm sensors – Various areas of the factory alarm system can be deactivated to cut the cost of expensive alarm repairs (tilt sensors, interior sensors etc can be switched off to avoid false alarm triggers).
E46 M3 DME flash options…
The options listed below are only applicable to the E46 M3 – they cannot be programmed into any other variant.
Both or just one of these options can be activated on all E46 M3's for a flat rate of £83.00 + VAT (this is a separate DME flashing fee and is not included with any of our other services/remaps).
6-Speed Manual Shift Lights.
All BMW E46 M3's equipped with the SMG gearbox are produced with shift lights activated as standard. This Gran Turismo style shift indicator often leaves manual transmission owners in envy. At Grosvenor we can reflash the DME (ECU) control unit to activate these very same shift lights in the 6-Speed manual transmission model… Giving a manual car full Gran Turismo shift lights.
Sports Button Memory.
We can reflash the DME to activate 'sports button memory'. The sports button is fitted standard to all E46 M3s and changes throttle mapping when activated. By default 'sports mode' switches off when the ignition is cycled. 'Sports button memory' is exactly that. Whatever position the sport mode was previously set to, will be automatically restored upon start up of the vehicle.
E46 M3 EWS Removal…
We physically remove the EWS control unit from the vehicle, rewire the starter exciter and reprogram the DME control unit to eliminate the EWS function totally. Nothing requires aligning etc. This service totally removes the factory immobiliser function.
The cost of this EWS removal service is £299.00 inc VAT.
These options may not be available on every vehicle. Different model years, body variants and specification will dictate the options presently available for your vehicle