Identify your BMW headunit, CIC Professional Navigation
Watching the video below will guide you through your BMW head unit, If you have Premium written to your map data version you have a CIC headunit.
CIC (Pro Nav) – If your vehicle has a CIC head unit fitted, then a factory fitted combox is required.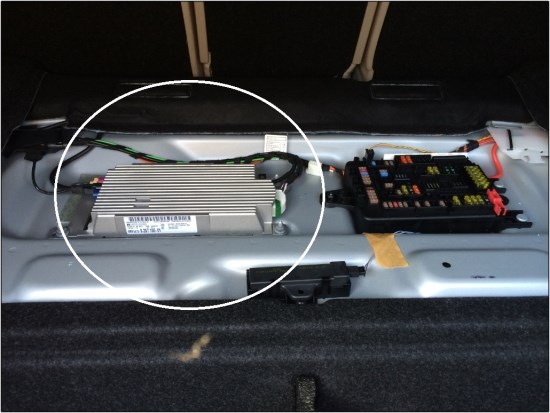 To identify if your vehicle has a combox fitted, removal of the boot carpet is required (please do not ask us to check via VIN, please follow the steps below).
First, open the boot and empty it of your belongings.
Totally remove the boot liner carpet and set it down – this just pulls out.
Remove the flat supporting hard board in the boot (don't just lift it up, take it out).
The combox is the item circled on the left in the picture above (just forward of the battery). You'll know if you are looking in the right place as you will see a fuse box sat to the right (just forward of the battery).
If the space is empty to the left of the fuse box, you have no combox.
If you do have the circled combox fitted. Great! We can get you coded.
Sadly we do not retrofit combox's due to the time and complexity of the installation.
If the combox is in place the coding retrofit is the same cost of £83.00 + VAT. We can add this extended Bluetooth option to your vehicle now for £83.00 + VAT. Just give one of our team a call on 0118 958 3481 and they will get you booked in.
If you have NEXT, Move or Motion, please go back a set and look at one the other guides.