Electric wing mirrors fold with remote central locking remote or comfort access.
How this works after coding:
A longer purposeful hold of the BMW logo on the remote will fold in the wing mirrors remotely.
Unlocking the vehicle will instantly unfold the mirrors.
This may sound obvious but factory fitted electric folding mirrors are required. If you do not have the button circled below in yellow factory fitted to your vehicle, you do not have electric folding mirrors. The are not hidden, they are not there waiting to be switched on, you just do not have them.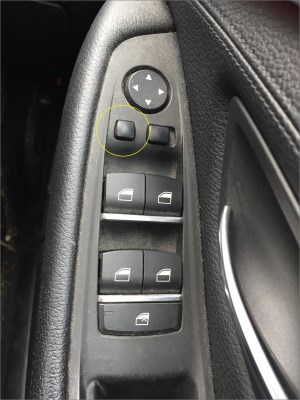 This upgrade requires factory fitted electric folding mirrors. If they are not fitted, obviously they cannot be remote operated. If they are factory fitted this function can be coded to your vehicle for £83.00 + VAT.