Do you own a BMW with a 5DF0 & 5DF1 DSC malfunction fault?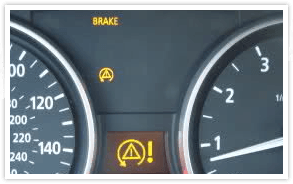 These symbols indicate that your vehicle's ABS and Traction Control system has shut down due to a fault. We have seen a influx of vehicles with these fault codes stored:
5DF0 Hydraulic unit: pump motor.
5DF1 Hydraulic unit: pump motor connector fault.
As these vehicles age the ABS/DSC pump motor begins to seize. The pump housing is a one time press fit hindering the option to repair without specialist equipment. As such BMW will only replace the whole ABS unit with a bill of around £2500. We do however have a solution.
We have these hydraulic units repaired by a braking specialist. The money saving is huge!! We strive to have slave units in stock to provide a 1 working day turn around.
So what do we do?
We plug our BMW diagnostic equipment into your vehicle, allowing us to diagnose and confirm the fault, we are looking for a 5DF0 & 5DF1 fault.
We remove ABS hydraulic unit and send it for specialist reconditioning.
Upon return of the newly refurbished ABS hydraulic unit, it is refitted to the vehicle.
Bleed the braking system with new DOT4 brake fluid.
The unit is then setup and coded the vehicle.
We read and clear all stored vehicle fault codes.
This 5DF0 & 5DF1 fault usually affects the following 6-cylinder models:
E82, E83, E87, E88 – 1-Series.
E46 3-Series.
E90, E91, E92, E93 – 3-Series.
E60, E61 – 5-Series.
E63, E64 – 6-Series.
E85 Z4's.