5E20 DSC Control Unit Fault
Malfunction BMW E90 & E87
If you own a 1-Series or 3-Series 2005 onwards you may well see these symbols appear on you dash during your ownership.
5e20 is the fault code we are going to discuss.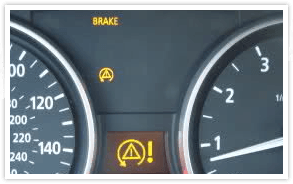 These symbols indicate that your vehicle's ABS and Traction Control system has shut down due to a fault.
So what do we do?
We plug our BMW diagnostic equipment into your vehicle, allowing us to diagnose the fault, usually finding a 5E20 fault meaning your vehicle requires a new ABS hydraulic unit.
We remove and replace the ABS hydraulic unit.
Bleed the braking system with new DOT4 brake fluid.
Code the new unit to the vehicle.
Read and clear all stored vehicle fault codes.
This 5e20 fault usually affects 4-cylinder models. We have however seen similar faults on 6-cylinder models, we can provide repair services for these models too.
Sadly this is a common fault and requires a new one ONCE… the revised unit a better design and usually lasts the duration. We use a genuine BMW part, so for total peace of mind this unit comes with a 2 year warranty.