BMW 6NH Bluetooth to 6NS, 6NK, 6NL Extended Bluetooth Coding.
This is a very popular coded function enables your extended / advanced Bluetooth. This option is charged at an addition £280 when purchasing the vehicle new from BMW, giving far greater Bluetooth functionality. These additional features include:
Bluetooth audio streaming from your mobile phone.

Control your itunes, song selection etc via the factory fitted iDrive.

At any given time, 2 mobile phones or bluetooth audio players can be paired and active simultaneously.

View organiser data from the mobile phone on the Control Display by selecting 'Office' from the menu.
View contact photos from the address book of the customer's mobile phone on the Control Display.
View album covers on professional navigation vehicles.
If your vehicle has the NBT head unit fitted, no further equipment is required. We can add this extended Bluetooth option to your vehicle for £83.00 + VAT.
If your vehicle has any other head unit fitted, ie CIC Professional, business etc then a factory fitted combox is required. If the combox is in place the coding retrofit is the same cost of £83.00 + VAT. Please see our guide below to identify if you have the correct hardware fitted.
Checking if a factory fitted combox is fitted…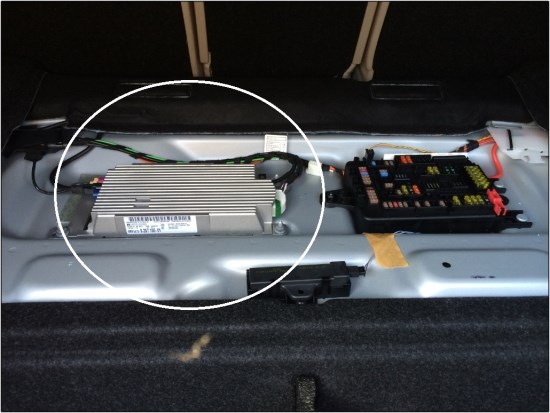 To identify if your vehicle has a combox fitted, removal of the boot carpet is required (please do not ask us to check via VIN, please follow the steps below).
First, open the boot and empty it of your belongings.
Totally remove the boot liner carpet and set it down – this just pulls out.
Remove the flat supporting hard board in the boot (don't just lift it up, take it out).
The combox is the item circled on the left in the picture above (just forward of the battery). You'll know if you are looking in the right place as you will see a fuse box sat to the right (just forward of the battery).
If the space is empty to the left of the fuse box, you have no combox.
If you do have the circled combox fitted. Great! We can get you coded.
Sadly we do not retrofit combox's due to the time and complexity of the installation.
(Some of these features may not be available on all vehicle due to different hardware / software levels).